Recently, there were two posts on FaceBook that included newspaper photographs of skaters on the ice at Forge Dam. The pictures show people 'of mature years' demonstrating considerable skill on the ice and this attracted a large number of onlookers.

The original post elicited a few responses including one which pointed readers to film on the Yorkshire Film Archive. Lasting nearly 30 minutes, this silent film is in fact three films put together from 1936, 1945 and 1953. Like the photographs in the newspaper at the start of the century, the participants are mainly adults though a few children are on the ice. From 5 minutes in, the footage is in colour.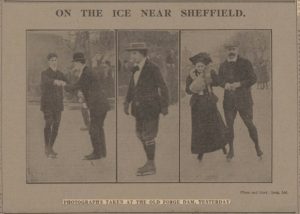 The skating was clearly organised and managed. At one point there is a gentleman in a dark suit and wearing a bowler hat. He is stationary in the middle of the ice and appears to be ensuring safety an suitabble behaviour. There are also men clearing away the loose ice created by the blades as the skaters twist and turn
Later the film shows skiers – possibly at Jacob's Ladder – and also skating on Wire Mill Dam.
The photographer was Kenneth Tofield (1906-1983) who was educated at Pannal Ash College in Harrogate. As a child, he lived on Chorley Road. He married Joan Stringfellow in 1947 and they had one child, John. A keen gardener, in the 1930s Kenneth won the Brighter Sheffield competition five times for the garden at his parent's house (the category of the competition that he entered was 'with help' suggestion he did not do all the 'spadework'!). Kenneth continued his passion for gardening at the house on Brooklands Crescent (No. 47?) Joan and he moved into after their marriage, creating colourful borders that can be seen on another of his movies "In My Garden". This film also depicts John waiting for his father on his return from work at the Midland Bank.
Links to the 1st post and the 2nd post
Kenneth Tofield's film is here. Other films by Kenneth held at the Yorkshire Film Archive can be found by searching the archive using 'Tofield'.
Thanks to the original FaceBook poster and the person who shared Tofield's film