Introduction
Since the early days of the NHS, Fulwood House and its grounds have been used by the NHS. The NHS moved out in 2023 selling off the land for redevelopment. In the application for planning permission, the developers state that the house was built in 1911 but there is evidence to put this date earlier.
The house is on Old Fulwood Road. The house is on Old Fulwood Road. At the time the house was built the road from Nethergreen went past the Hammer and Pincers Coffee Shop and the blacksmith's forge next door (on the right) and the entrance to the House on the left. The bends at the junctions of Old Fulwood Road with the current Fulwood Road were not as sharp as they are today.
The Land
As with much of Fulwood, the land on which the house was built was owned at one time by Henry Isaac Dixon of Stumperlowe Hall. The first relevant 'memorial of a deed' held at the Registry of Deeds at Wakefield is dated July 1889 when Dixon conveyed land to Henry Ashington. It is not clear what role John Bradley Firth (a relation of Mark Firth) had in this transaction, although his name is included in other deeds naming Dixon as the first part and Firth as of the second part.
The plan accompanying the memorial at shows that the land does not have any buildings erected on it at this point.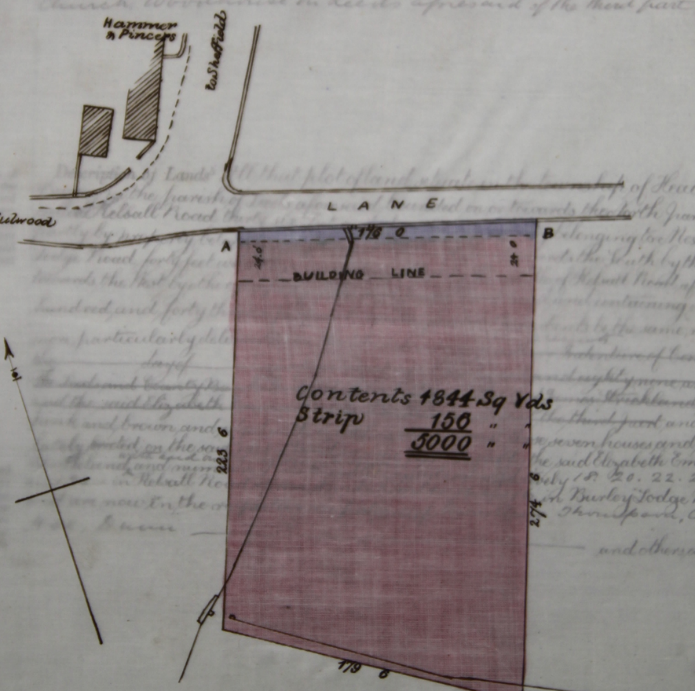 An Indenture of Mortgage was drawn up in June 1892 between Henry Ashington and James Willis Dixon and Samuel Shepperson Dixon. These Dixons were uncle and cousin of James Dixon. The indenture describes the land that Ashington had purchased from Henry Isaac Dixon three years previously and includes the phrase "Dwellinghouse now in the course of construction."
The second plan of interest is shown on the right.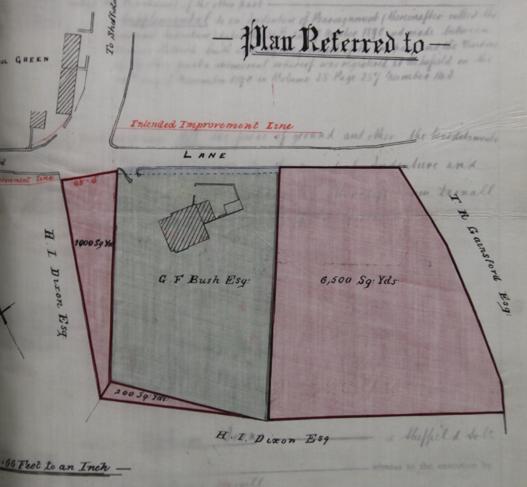 This plan is part of a memorial dated 1897 that records Dixon selling land that surrounds the original plot. The purchaser is George Frederick Bush who by now also owns the land that Dixon had sold to Ashington eight years previously. Significantly there is a building shown and this appears to be oriented similarly to Fulwood House.
OS Map 1903
The OS map of 1903 to the left shows clearly Fulwood House.