The Merryweathers
At the north east corner of Fulwood Church (Sheffield) is a tryptic commemoration of all the men of Fulwood who served in the First World War. Each panel has about 100 names split into two columns, about 300 in all. At the top of the second panel are the names of those who died. The statistics produced by the Registrar General from of the 1911 census gave the population of Fulwood of just over 3300 which hints that the majority of men who were of a suitable age served.
Among the names on the middle panel are those of four men whose surname was Merryweather: Cecil Edward, Charles Gordon, James White, and Reginald. They were all the sons of James White Merryweather, the vicar of Fulwood between and it his story that is told first.
The West Indies Connection
James White Merryweather (senior) was the son of George, a planter, and Elizabeth White who had been married at St Mary Magdalene Church at Whiston on Christmas Day 1843. James White was born on the island of Grenada in the West Indies in 1846. James was followed by three other boys and two sisters, all born on Grenada.
In the spring of 1851, Elizabeth and her sons returned home on a visit and on census night she and her two younger sons were with her parents whilst James was with his Uncle James and Aunt Hannah White (James and Elizabeth were siblings, the children of James and Eliza White) in Rotherham. Elizabeth had brought a servant named Pelazar 'Merryweather' who was perhaps an emancipated slave. The family returned to Grenada where James' sisters, Elizabeth and Emily, were born in middle years of the decade.
Ten years later, James' family had returned to England and were living on Norfolk Street in Sheffield. The return may have been prompted by George's poor health as he died in September that year and was buried at Whiston, near Rotherham. James White was described as a "Surveyor Estate & West India Agent" which was the same employment recorded for his father, so it would appear that he was destined to carry on a family business. However he had other ideas because in the 1871 census he was described as an undergraduate of Trinity College in Dublin, graduating in 1874 and taking a master's degree three years later.
Call to ministry
During the time he was studying for his degree in Dublin, he was also training for the priesthood and he was ordained deacon in 1873 and ordained priest the following year. He was appointed a curate at Monkton Combe near Bath where he was also employed as a school master.
By 1874 he was back in the West Riding having been appointed vicar at Oughtibridge. A year later he married Elizabeth Wilkes and a daughter, Bessie was born in 1876. Elizabeth died soon after her daughter's birth.
James White must have had extraordinary will. In the 1870s he had trained for ordination, begun his ministry and taken on a teaching role. He had studied at university level, married, become a father and been widowed.
In 1877, the year he completed his master's degree, he moved to the parish of Carbrook in the east end of Sheffield where he stayed for 21 years, overseeing the building of a new church to replace the iron church which opened in 1891. He was active in education matters, playing a leading role in extending two schools in his parish. He was somewhat progressive in setting up a church council "to which, outside the ministerial duties, he was content to leave the control of affairs." In 1899 he moved to Netherthorpe before moving early in 1912, aged 66 years, to "the pleasant suburban parish of Fulwood.
In November 1882 he married Constance Webster of Darfield near Barnsley, at the parish church in Sheffield. James and Constance had five boys, four of them being the subject of this essay: James White (1883), Charles Gordon (1885), Reginald (1887), Cecil Edward (1889) and Percy Archibald (1893) and two girls: Gladys Mary (1888) and Constance May (1894), all born in the vicarage at Carbrook. All the children except Cecil were baptised at Carbrook, Cecil being taken to the town church. Gladys died aged 4 in July 1893 and Percy died in November of the same year, having only lived for a few months. Both children were buried at Whiston, as their grandfather had been.
James White moved from Carbrook to St Philip's Church at Netherthorpe and in 1912 to Fulwood. In both moves, James WHite's family accompanied him. In 1901, the family was at the vicarage on Upperthorpe, a large house with 15 rooms, although Cecil and Reginald were away at the school near Bath where their father had taught for a few months at the start of his ministry. It is likely that James White (Jnr) and Charles also attended the school during their early teens but were back in Sheffield. James was articled to an accountant, qualifying by 1911. Charles was a bank clerk with the Sheffield and Hallamshire Bank, Reginald, perhaps following his brother was an account's clerk, and Cecil was working in the offices of the Alliance Insurance Company.
James White was active in establishing state education in Sheffield, heading the poll to elect School Board members in 1897 and serving on the newly created Education Committee from 1902 to 1911.
James died in 1916 and was buried at Fulwood Churchyard. Subsequently, his widow moved to Elmore Road in Broomhill.
The Sons Before the War
Unlike, their father, none of the brothers were public figures and there is little in the local papers about them.
Other online searches revealed that James White (Jnr) had travelled to America arriving in July 1907. The obituary for the Revd Merryweather recorded that he and Constance had had to travel to there to visit the very sick son, travelling in November 1908. Fortunately, the parents were able to return to the UK with James a few months later.
In September 1913, James White was married to Coralie Weaver at Fulwood by his father with his cousin Henry Hall Merryweather assisting. His brother Charles was his best man, noted as Gordon by the reporter in an account of the wedding for the Sheffield Evening Telegraph. The couple had one daughter, Coralie, in 1915.
The only other pre-war snippet discovered about James is that in March 1914 he sang at a Bazaar held at the Cutler's Hall in aid of the House of Help for Friendless Girls and young Women which needed to raise money to alleviate a debt. Many of the family were involved in the event: the Revd Merryweather was in a party to welcome the countess Fitzwilliam who opened the bazaar and Bessie organised the musical entertainments, securing her brother's services to sing whilst the countess and others had luncheon. He joined the "Sheffield Club" in 1925 and subsequently supported the application of others.
In 1939 James and Coralie were recorded as living on Endcliffe Vale Road. Their daughter married in 1951. James died in 1966 and his widow died 14 years later.
There's not much online detail about Charles Gordon, the most being about his short war service which is covered below. He worked for National Provincial Bank initially as a clerk but rising to the manager of the Snig Hill branch. He married Annette Neil in Altrincham in the summer of 1923 and died three years later. He had suffered from heart disease since childhood. He had some involvement with the Sunday School at Fulwood church as F Turner, representing the Sunday School attended his funeral, along with Frank Norton and H Wood. No trace of Annette has been found.
Reginald was perhaps the most adventurous, emigrating to Africa sometime between 1911 and 1914. He had attended the school near Bath known to his father when he was a curate nearby and by 1911 was an accountant clerk, possibly working with his brother.
He married Beatrice Reid in Mombasa Cathedral in 1919 and subsequently settled in Cape Town where two daughters were born. These three life events were reported in Sheffield papers as being announced by telegram, presumably to his family rather than to the newspapers.
So, although his name appears on the memorial in Fulwood Church, he had left the parish by the outbreak of war.
Cecil Edward, the youngest son, was born in 1899. Unlike his siblings, he was baptised at the town centre church of Saints Peter and Paul (now the Cathedral.) He attended the school near Bath where his father had taught for a year and after returning to Sheffield became an 'Insurance Agent.' At the end of December 1918, he married Evelyn Southwell at Filey and they had two daughters: Beatrice was born in 1920 at Hastings and died a few months later. Evelyn was born in August 1928 in Sheffield when the family was living on Collegiate Crescent but only lived for five hours. She was buried in in the family grave at Fulwood.
Cecil was in London at the outbreak of war in 1939, living just north of Hyde Park and died in there in 1965. Evelyn had died in 1934.
War Service
During the First World War all four brothers served. James White joined the West Riding Division of the Royal Engineers and was appointed 2nd Lieutenant in November 1915. His service details are at the National Archives but are yet to be read so his war history is not known. At the end of the war, he was awarded the Distinguished Service Order in the Birthday Honours of 1919 "for distinguished service in connection with military operations in France and Flanders."
Charles Gordon was called up in the early part of 1917. He joined the Royal Naval Reserve and it would appear was assigned to administration duties, attending HMS Victory at Portsmouth for instruction. Whilst in Portsmouth, he contracted Measles and was in Haslar Hospital for three weeks in March 1917. He was appointed to office of the Commander in Chief at Rosyth for 'coding duties.' This was a short appointment and he was nominated to work in the office of the Naval Vice Consul at the major US Navy establishment at Norfolk, Virginia but the nomination was cancelled.
It would appear that Charles was not a well man. In April 1917 he applied for an appointment which did not involve night work because he had suffered heart disease for 12 years and was concerned that night work led to palpitations which 'may lead to serious results. He was examined in May 1917 and declared unfit to cross the Atlantic, hence the cancellation.
He reported to RNAS Pembroke on 28th May and was sent to the Crystal Palace for a two week course in October before returning to RNAS Pembroke. At the beginning of April 1918 he transferred to the RAF but in June he relinquished his commission on account of his ill health.
Reginald was, according to the newspaper report of his father's funeral, serving with the Uganda Rifles, part of the Kings African Rifles. The main campaign was a series of battles and guerrilla actions that started in German East Africa. An online search showed two entries for Reginald, both dated 1914, showing the Reginald began as a Private in 1914 but within the year had been commissioned with a rank of Lieutenant.
Cecil Edward joined up late in 1914, joining the Duke of Wellington's (West Riding) Regiment as a 2nd Lieutenant. The Sheffield Daily Telegraph published a list of the sons of clergymen serving in May 1915 and listed Cecil. He was at his father's funeral in 1916 but in France during the Battle of the Somme.
Bill Smith of Skipton, has researched the West Riding regiment during the First World War and has published his account as a blog, each post covering a day. From the blog, "Captain Tunstill's Men – a day-by day account of one Company in the Great War" I learned that Cecil had been "in the territorial force for almost three years between 1909 and 1911, serving firstly as a driver with the West Riding Brigade, Royal Field Artillery and later as a sapper with West Riding Divisional Engineers. He had applied for a temporary commission in November 1914 and been posted to the 10th Division of the West Riding regiment.
The references to Cecil's experience begin on 5th July 1916 in the midst of the Battle of the Somme. The action began early in the morning, continuing until the 10th Division was relieved at 10pm. By then the division had lost 4 officers with another two wounded, one of them Cecil, described as one of the Battalion's original officers. The wound was 'superficial' and Cecil was treated locally. However, he spent 3 days at the Queen Alexandra Military Hospital at Millbank between 13th and 17th July. The admission register recorded a wound to his right thigh. The blog noted that Cecil had been 'invalided back via Calais to England for further treatment to his wounds and also for the effects of 'neurasthenia' (shell-shock) and on 17th that a medical board at Caxton Hall in London granted him leave until 28th August stating that, 'he was wounded by a shrapnel bullet which struck him on the outward anterior aspect of middle third right thigh, making a superficial wound. The piece of metal did not lodge; no important structures were injured. Wound has almost healed.'
At the end of August a report from 'an unknown major' said that Merryweather, 'has been attending at this hospital (name not stated) under me since July 1916. He is suffering from neurasthenia and weakness in right thigh. He is improving, but says he does not sleep well.' A few days later, 4th September a medical board in Sheffield noted that although the thigh wound had healed completely, Cecil's general condition was not quite satisfactory, a conclusion probably based on continuing shell-shock, and board concluded that 'light duty' at home was appropriate. He joined the reserve battalion at Brocton Camp in Staffordshire the next day.
A week later he applied to transfer to the Royal Field Artillery and this was approved by the 14th September, subject to a full recovery. His health was slow to improve and he told a review board at Brocton that his thigh was still weak and he was unable to sustain prolonged exertion. He also said that he had been sleeping badly and was very nervous. The board said he should stay on home duty for another three months. At the end of October, his transfer to the RFA was approved (the blog suggests the Medical Board had pushed for this) and he transferred to Ripon.
He appeared before another Medical Board in November, when the same symptoms were noted and ordered another examination in a month's time.
And then in the diary entry for 15th November, we get a glimpse of Cecil the person. He is mentioned in a letter written by a fellow officer, Robert (Bob) Perks, who was stationed at or near North Shields, to his parents. They had learnt of their son's promotion and despatched a congratulatory telegram. In the letter Bob wrote to his parents in reply, he thanked his mother for forwarding a letter from Cecil and reported that Cecil had written 'a detailed account of his girl and says she "doesn't appear to object to my taking a cousinly interest".' Here is Cecil, forgetting wounds and what modern medicine calls PTSD for a while and waxing lyrically and perhaps with humour – the cousinly interest reference is possibly a euphemism –about his girlfriend.
In early September, Cecil applied for a 'Wound Gratuity.' In his application he said that:
I received a gunshot wound in the right thigh whilst in action in France on the 5th July last. I was, at the time, serving with 10th battalion Duke of Wellington's (West Riding) Regiment and was absent from duty until 5th of September last, when I reported for light duty to the 11th Training Reserve Battalion at Brocton Camp, Staffs., and was there until October 27th when I was transferred to the Royal Field Artillery. I was on 'light duty' until about three weeks ago, when I was put on 'home service' by a medical board sitting at Ripon Hospital.
Hoping my application will meet with your approval.
I don't know as yet if the gratuity was awarded.
Another month passed and the Medical Board considered Cecil's health in November and noted that he is in the same condition as before, directing him to seek treatment for his headaches. By December, the Board noted that the treatment for headaches had been successful and that he should be fit for general service in three weeks. This proved to be accurate and by February 1917, he was declared fit for General Service.
At that point, references to Cecil in the blog cease.
End Note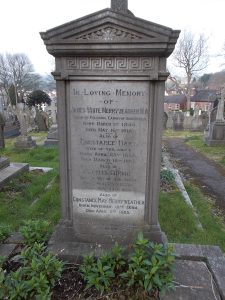 Revd James White Merryweather had been vicar of Fulwood when he died in 1916 and buried in the churchyard. The grave is the last resting place of Constance, James' wife, who died in 1927, their son Charles Gordon who died in 1926 and their daughter Constance May who died in 1985. Also in the grave but not recorded on the headstone is Evelyn, the granddaughter of James and Constance, who had only lived for 5 hours.