Ernest, George, Charles and Bernard were the sons of John Gosney of Crospool, Sheffield. John owned a quarry at Hagg Farm. Born in 1853, John died in 1917. The farm remained in the family after John's death, being run by his widow, then his son, Bernard.
Rifleman Ernest Gosney was born 1890 to John & Mary Ann Gosney. Ernest was the youngest child of John & Mary who died at the end of 1890. So the Census in 1901 reecords John as widower with five children aged between 13 and 1 years old. The family lived on Tapton Hill at Crosspool. John had been born in Manchester and it was across the Pennines that he returned to find his second wife Mary Ann Curran. John and Mary Ann were married at St John's Church in Ranmoor in 1892. John would have needed help with his children, so It is very probable that Mary Ann was living with already part of the family before the marriage.
John and Mary Ann had five children so Ernest grew up in a busy and lively household. The family prospered as John was describing himself as a labourer until the mid 1880s when he began to say he was a quarryman. By 1911 he was recorded as a quarry owner and farmer having moved to Hagg Farm on Hagg Lane.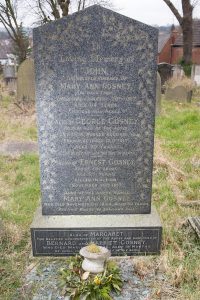 Ernest was living with his brother James and wife, Hilda, on Tapton Hill Road. Both James and Ernest were working in the family business which was sufficiently prosperous to have an employee.
Ernest married Margaret Dent at Fir Vale church in November 1911. They moved to Crookes where their first child Ernest Hedley was born in January 1912. The growing family had moved to Clough Fields when Stanley was born in March 1914. Their third child was Cyril who was born in 1917 around the time of his father's death.
Ernest joined the King's Royal Rifle Corps and was killed in action on 30th November 1917 aged 27, probably at the Battle of Cambrai, and is commemorated at Cambrai, France.
There is a memorial on the headstone of the family grave at Fulwood:
Also of George GOSNEY, beloved son of the
above. Died from wounds received in France
October 12th 1917, aged 20 years.
"In the midst of life we are in death"
Also of Ernest GOSNEY. son of the above, aged
27 years. Killed in action November 30th 1917
Margaret married Ralph Longstaff in 1919 and they had a daughter Edna. Ernest Hedley served in the second world war.
The memorial at Fulwood has a memorial to George Gosney who was the 4th son of John and his second wife Mary Ann. George was born in 1897 and when the census was taken in 1911 his father recorded that George who was 14 years old 'had just left school.' George probably worked in the family business before being called up. He was with the 6th Battalion of the Yorkshire Regiment. George died of wounds on 12th October 1917 during the British Flanders Offensive, possibly at the First Battle of Passchendale on 12 October 1917. He is buried in the Dozinghem Military Cemetery where his memorial carries the dedication: Not My Will But Thine Be Done.
Both Ernest and George are commemorated on the memorial at Ranmoor
Bernard Gosney also served during the first world war. He was a private in the York and Lancaster Regiment. He survived the war receiving the standard Victory and British medals. He returned to Crosspool and the family business at Hagg Farm. He married Harriet Reynolds in 1932 and they had one child, Margaret, who died aged 18 months in 1936. Bernard died in 1977 and is buried in Fulwood. Harriet died in 1980; she is not interred in Fulwood.
Charles Gosney was the youngest child of the family He was born in 1899 and like his siblings, baptised at St John's Ranmoor. He was in the Lydgate School football team that was victorious in the Wednesday Shield competition of 1913, beating Malin Bridge by three goals to one in the final. His medical for the Army described him as being 5′ 3″ tall and weighing just over 8 stone. He had fair hair and blue eyes and, like so many conscripts, a fresh complexion.
His call up came in the spring of 1918 and he was posted to the 5th West Yorkshire Regiment. He embarked for France in October and when he arrived was posted to the 10th Battalion of the regiment. A day later he was re-posted to the Manchester Regiment arriving at the Front just two weeks before the Amistice. He was still in France at the start of the 1919 when he was admitted to hospital with a fever. A month later he returned to England.
He returned to the Hagg Farm and this was his address when on Christmas Eve 1924 he married Winifred Marples who lived just across the road on Benty Lane. They had two children, Mary in 1926 and Stuart who was was born two years later. By 1939 he had taken over Moor View Farm on Manchester Road, near the junction with Benty Lane. Charles dies in 1961.