Private John Henry Birley was born in September 1886, the eldest child of James and Grace Birley. The family moved around during John Henry's childhood: they were at Sheephill Farm where James was a labourer in 1891 and five years later they were in Foolow. By 1901 they had moved to Chapel Terrace at Ranmoor and James was a coachman with John Henry, now 14 years old, employed as a groom.
ohn Henry was apprenticed to Samuel Hancock. Hancock ran a large and successful firm of stonemasons and builders based in Nethergreen. By 1911 John Henry was qualified. At the time of the census he was working in the Hope Valley, perhaps on a commission, as he was recorded as living in Thornhill, a hamlet between Hathersage and Hope. (He was also recorded with his parents at Ranmoor.)
His host family was the Froggatts, headed by Hannah, a widow. Hannah's husband and father of her 8 children was John Beresford Froggatt. One of the children was Olivia who in 1911 was working as a housemaid in Hathersage.
Olivia and John Henry married in 1912 and set up home in Bamford where their two children were born: Arthur in 1914 and Dorothy in 1915. In the 1920s, Olivia was living in Bamford.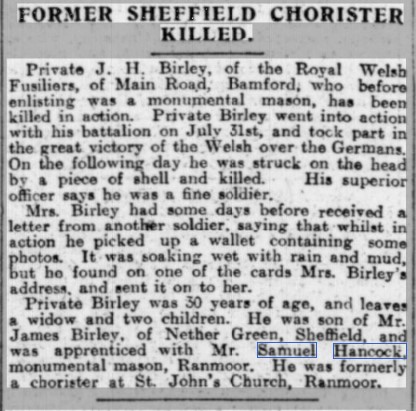 John Henry enlisted at Buxton and was for some time in the Leicester Regiment before being transferred to the 13th Battalion Royal Welsh Fusiliers. He was killed in action on 1st August 1917 during the Battle of Passchendaele.
He is commemorated on the Menin Gate Memorial and the memorials at Bamford and Fulwood.