Origins
The old Fulwood School was built in or shortly before 1720.
A plaque outside the original schoolroom lists the main benefactors and a date 1730. The 1730 date is likely to commemorate the date of the plaque rather than the date of the school. A similarly styled inscription at the nearby Chapel in Fulwood has the date 1729 even though that building was constructed in 1728!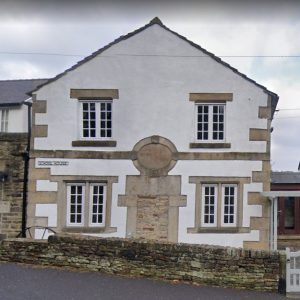 The benefactors are listed as John Fox £150, William Ronksley £30, Mary Ronksley £20. A clerk in holy orders, Robert Jurie, gave £10. Not listed is a Benjamin Ashton of Hathersage who gave £5. Obviously not enough for your name to be immortalized. Either that or the mason ran out of room!
John Fox, who lived at Fulwood Hall, just up the road gave £50 in his lifetime and gave a further £100 in his will dated 9th November 1720. The relevant section reads
'I will and devise that my Executors within the span of 12 months or so soon after my death as conveniently may be to layout the sum of £100 in the purchase of lands tenements and hereditaments of Inheritance to be settled and secured to the use of and for and towards the perpetual maintenance of a schoolmaster to teach and instruct children to read and write in the now erected school in or near Fulwood aforesaid'
William Ronksley died in January 1723/4. It does not seem that he knew of the school, but as he was living in Gunthwaite[1] at the time of his death, that may not be surprising. His gift contained in his will was for the education of 4 local children 'of the poorer sort' in Fulwood, at or near to Birks Green. His Trustees decided that the recently erected school was close enough so the school Trustees received his £30.
The single storied school was built on land that was Common or Waste land which belonged to the Lord of the Manor, the Duke of Norfolk. To acknowledge his ownership the Trustees paid rent of one shilling a year.
Delapidation
The school Trustees paid the schoolmaster's salary from whatever income they received from the capital given by the above-mentioned gifts and others. It does not seem that any money was retained for maintenance of the building because in 1792 the school was deemed to be too small and in poor repair, so a larger school was built on part of what was previously the playground. The old building was converted into a substantial house for the master.
Under New Ownership
In 1828 the Trustees were to be in for a nasty shock and had to petition the Duke of Norfolk for his aid in saving their school. The circumstances were rather bizarre. Before he died the old Duke decided to sell off some of his surplus land in Fulwood. This included School Green Farm and the land in School Green Lane on which the school stood. The buyer was a wines and spirits merchant called Thomas Pearson who paid the substantial sum of £1,400 for the farm and just over 33 acres of land tenanted by the Barber family. It appears relations between Mr Pearson and the school were initially cordial. He even lent the trustees £30 to enable them to carry out repairs to the school and it is alleged that he offered the Trustees a 999 year lease.
The lease was never completed and for many years the Trustees neglected to pay the one shilling per annum rent. As a result, Mr Pearson seems to have developed other plans for the school. These become clear in the points made in the petition to the new Duke which read:-
The wall dividing the school from School Green Farm has been pulled down and the tenant farmer, Mr Barber, is now using the land as part of his fields.
We have had to dismiss the Master for neglect of duty.
Mr Pearson has served us with Notice to Quit which expires on29th of this month (September)
Mr Pearson has applied for a liquor licence for the premises and fixed the appropriate notice to the door of the Parish Church in Sheffield. The Brewster Sessions at which the application is due to be heard is fixed for next Wednesday.
The Master is refusing to hand over the keys of the house to us. He says he will only hand them to Mr Pearson. We believe the Master has been promised the tenancy of the Public House if the application is granted.
The petition ends 'We crave your Grace's helping hand and we will ever pray for your welfare' Fulwood 1ST September 1828
It seems as though the Duke did intervene as the school Trustees re-established control but did have to pay an increased rent of £1 a year for the privilege. The fate of the old Master, and would-be publican, is unknown.
Parliament Sets Up A Commission
Before the age of State education schools up and down the country were organized locally on a similar basis to the Old Fulwood School. By the 1830s this was widely felt to be insufficient. Trustees often were very lax in attending to their duties and it was not unknown for some of the more unscrupulous ones to divert some of the income from the endowment into their own pockets. A commission was therefore set up to investigate and report on all schools. There follows a summary of what was said about Fulwood School in 1840.
By Indenture dated 31st July 1783 reciting that John Fox in or about 1720 had given and bequeathed £150 for the maintenance of a school master to teach children to read and write in the newly erected school in Fulwood and that William Ronksley Gave £30 for the use of a school in Fulwood for which 4 children of the poorer sort should be taught to read English only to be chosen out of Fulwood by Humphrey Wardley and John Wardley (otherwise Ronksley …. And that Mary Ronksley and others had given £35 for the use of the school and that the said several sums amounting together to £215 had been placed out at interest and the interest applied towards the support of a master of the said school and that Humphrey Wardsley as surviving Trustee for the school had appointed William Woodhouse and three others to be joint Trustees with him in the management of the school and that they …. had agreed with Benjamin Hall for the purchase of a messuage …. Wadefield House near Stannington and 5 closes known as the Crofts in Stannington together with the Four Wade Fields containing 4 acres or thereabouts for the sum of £240 towards payment for which the sum of £215 was intended to be applied and £30 … borrowed to make up the purchase-money and defray the expenses of the purchase. In consideration Benjamin Hall (and his mortgagee) conveyed to John Wardley and Five other persons chosen by the major part of the inhabitants of Fulwood as trustees for the management of the school ….. and … out of the rents and profits to discharge the sum of £30 with interest and to apply a competent part of the rents and profits for the support of a master in the said school for regularly teaching 18 poor children of the township of Fulwood and Hallam to read and write English provided that the trustees should retain sufficient part of the rents for keeping the school in repair; and it was declared that the school-house and premises in Fulwood should be always used as a public school wherein the poor children should be taught under such regulations as the trustees should appoint and that when all the trustees except three should be dead the survivors should elect out of the inhabitants of Fulwood two new trustees to make up the number of 5 and should convey the said messuage …. together with the interest in the school house in Fulwood to ….. themselves and the new-chosen trustees.
Of the trustees appointed by the above deed Mr J Fox is the only survivor five new trustees however were elected some time ago by the old trustees then living, but the premises have not been conveyed to themselves and the new-chosen trustees as they ought to have been.
The property mentioned in the deed is held by Matthew Lowe as yearly tenant at the annual rent of £13 13s which appears to be somewhat below the present actual value.
The school is kept in a schoolhouse at Fulwood which is repaired at the expense of that township and the master who receives the whole of the rent as his salary teaches 18 poor children appointed by the trustees to read and such of them as are fit to write, and he teaches other scholars at the charge of their parents …
It therefore seems that, by and large, the school was being run adequately in the late 1830s. This did not last long. Around twenty years later, in 1858, there was a lot of dissatisfaction in the valley about the 'lamentable' state of the school. John Marshall from Fulwood Hall had raised questions of an election candidate in 1852 about the quality of education in the valley.
Trustee Problems
By 1858, all the original Trustees and those that had been appointed to replace them had died, and the sole remaining Trustee was Samuel Fox, who was one of the many who had signed the petition in 1828, and was believed to be a distant descendant of the original donor John Fox. Not only was the school in disrepair but the rent had remained at £13 13s for 75 years, despite considerable rises in rental values in the area. An application had been made to the Charity Commission for ten new Trustees to be appointed. The old Trustees were also blamed for allowing the Duke of Norfolk to sell the freehold of the land on which the school stood without protecting their interests and the charity thereafter having to pay £1 per annum ground rent instead of the original one shilling.
According to the Sheffield Daily Telegraph of Saturday 2nd May 1858, a meeting was held at the schoolhouse on 30th April 1858 attended by most of the local families to discuss the school and the way it was being run. There was a motion before the meeting to apply to the Charity Commission for 10 trustees to be appointed. It was proposed that Thomas Marshall, of Fulwood Hall, and Samuel Fox (Junior) be proposed as two of the ten, new, trustees. The existing trustee, Samuel Fox (Senior), however was not happy. He applied to withdraw his son's nomination as a trustee on the grounds that "he would wish him to keep better company". This was refused as the meeting wanted to keep a descendant of one of the original Fox benefactors as a Trustee. Other names were then proposed and 16 candidates were put forward so the matter went to a vote to narrow the number of proposed new Trustees down to 10. Samuel Fox (Junior) tied receiving the equal fourth highest number of votes (49) tying with Thomas Marshall. There was a fair degree of rancour at the meeting as Samuel Fox (Senior) felt he was being personally criticized and pointed out that the rent was now £200 per annum. His opponents though stated that the increase had only come about after they had approached the Charity Commissioners and that the farmer, to whom the land had been let, had sublet it to a family member for £250 p a. The implication was that Mr Fox may have received a back-hander for taking such a supine role on behalf of the School Charity but it was not explicitly stated as such and eventually the antagonists decided to shake hands once the matter of the proposed new Trustees was settled.
A New School For Fulwood
The school did not survive for much longer as, on the death of the headmaster in 1875, the newly created Sheffield School Board decided to build a Board school for Fulwood which after considerable controversy was built on David Lane.
The view from the Farms
A letter to the Sheffield Independent is transcribed in full. It uses local idioms and has a typically local sense of humour. I suspect that it may have been written by someone deliberately pretending to write as locals speak. The points made though are accurate as to history and raise some interesting issues. Several letters in favour of and against the new school were published in the local press for a lengthy period around this time, and it seems to have been a sensitive issue for local residents. As will be seen from the letter quoted there certainly seems to have been antipathy between the remoter Fulwood community and those responsible for the Fulwood church school- then the posher end of Fulwood.
Wednesday 8th March 1876
FULWOOD BOARD SCHOOL
To THE EDITOR
We were rare and glad to see what you said in your paper on Saturday about our old school. I wonder where you do get all your news. If it had been the chap at t' other paper I shouldn't be so surprised, for he was up in our country in very good time t' other morning, before some of us were up, summat about a murder I think he said. You seem to have got to know a bit but you don't know much. I see so I'll tell you. That old school at Fulwood is a rare old 'un – many a hundred of years old. There is a great stone fixed in the side of the building with the names of them folks on what gave money to build it – they are them sort of folks you sometimes hear called pious. Ancestors arn't they. I know t' first chap on t' stone is down for 150£ and that would be a lot of money in them days. Someone went and planted ivy to grow and cover this old stone up as they thought it rather spoiled the look of the building, but some of us went and ripped it off, for we liked to look at the stone, and read the names on it sometimes.
When the old school was built it had a lot of land in front about an acre for t' lads to play on. They called it "School Green." They call it "School Green" yet, but all t' green's gone – it's gone just o'er t' wall into t' next field. There were a man as had a turnip field there then, and he thought it were a pity for all this good land to be wasted with a lot of lads playing at wickets on, so he just walled it in with his turnip field and it is there yet. You know there is a nice little house for the schoolmaster to live in and some money and all. I think you call that an endowment don't you? Well when t'church and church school were built they thought they would like some of this money for their school. What do you call that the word I often see in your paper – it means taking money from one lot and giving it to another -Dis summit? Well they dis-summited t'owd school out of ten pounds a year and stuck it on t'new – at least so they say in Fulwood.
I recollect t'owd schoolmaster, he were a queer chap. He were lame and used to nobble t'tads with his crutch. He were a rare good card player. I've had many a hand of whist wi' him, and many a drop of gin at 'Farewell's' at 't'Hammer' but that's a long while sin'.
Well when t' last schoolmaster died, School board agreed to take t' auld school, house, endowment and all bag o' tricks, and build a regular good modern sort of school. Well the folks at the Church did not like this; they said the old school was good enough and big enough, and besides they were just going to make their's bigger and so they thought it would be a pity to throw t' ratepayers money about. So then School Board said if they liked they would take t' school a bit out of t' way like and that they agreed to. Well school board folks started and painted t' old school up a bit just to make it look a bit respectable while they could get the new one built – They've got a mester there and tho' about one-half of t' children in Fulwood are badly at home wit t' measles they tell me t' ould school is quite full.
Well School board then got a chap to draw out maps and plans for the new building and began looking out for a piece of land to build on but one spot was too near to t' church and another cost too much money and another wasn't suitable and f hear now they've given it up altogether.
You see it's this way, just while t' School board are considering where to plant t' new school, a gentleman turns up and says there is a Church girl's school on his estate at Whiteley Wood, and it is a bit of a nuisance. You see a lot o' little lasses that goes there don't keep their noses very tidy, and they don't look very nice on his carriage drives and so he wants school shifting, and he says if you will let me shift this school I'll build you one bigger and better somewhere else.
All right says they, and then we shan't need this fine Board school. And f am very much afraid School board as going to knock under and give in, so I am afraid we are done. But there is another thing f want to tell you. When this old school was carried on there were two and twenty children to go free, now they tell me this is going to be stopped for a neighbour of mine had a little child that used to go free but now he has to pay, and they tell him there are going to be no free scholars, so it seems to me we are going to be worse off than we were.
Now don't think we are treated proper in Upper Hallam. They take about £130 a year from us as our share of the school rate and they've been spending that down in Sheffield where t' schools are nearly as thick on t' spot as '(publics' and we've had nowt up to now; and now that we've turned our old school over to them with the endowment and schoolmasters house and all the lot, they seem funcky about building us one school. Although ours is t' biggest ward in all t' borough. I say if they won't do nowt, they ought to let us off paying school rate. It's as bad as the bridge rate. Why, there's a lot of us up here at Redmires and at Stannedge Pole, and at Ringinglow (where that murder was), that have never seen t' bridge yet; and we had to pay to it many a year.
Now if want to know what our fine Town Councillors is doing. Whenever we have an election, there is generally two of 'em that wants to thrust into t' same seat; and you should hear how they can promise about looking after our interests! But bless you, after t' election is o'er, they seem to be troubled with bad memories.
With these few remarks I will now conclude; and remain, yours, respectfully,
7th March 1876 REDMIRES
A Murder in Fulwood?
The reference to the' murder' needs some explanation. A few days before the letter was written, the Sheffield Independent had issued a bogus single copy edition that was given to an individual whom they suspected was always getting their first edition and running it round to their rival publication 'The Sheffield Telegraph' who were creaming off anything exclusive, and rewriting the information with trivial amendments. As a result, this 'special' edition contained a front-page article about a completely fictitious murder that it said had happened in Ringinglow. The rival paper fell for the deception and led with details of the murder on its front page that day. The Independent then took a great deal of pleasure in exposing its rival and its' underhand methods in the following day's paper.
A hamlet about 3 miles north of Penistone ↑